Esmeralda Lazos
5.00/5.0
Rating Detail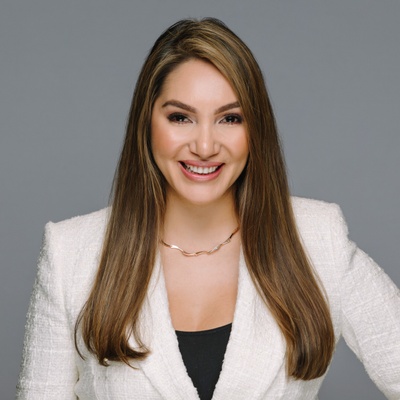 Get In Touch
After a few years of receiving my college education and enjoying a career in the Human Resources Industry, I chose a second career in Real Estate with the clear knowledge that there is nothing more important to the success of any business than listening to its clients and adhering to their concerns. I acquired my Real Estate License over 10 years ago and during that time; I learned quickly how to go to bat and come home a winner...let me be your personal VP of Sales! In real estate, my success is based on your satisfaction. It is my goal to provide you with the easiest and most satisfying transaction whether you are leasing, buying or selling a home.

There are many qualities and skills that go into being excellent real estate professional- integrity, in-depth community and market knowledge, marketing savvy, effective negotiation skills and a high quality professional network, all of which are hallmarks of how I work. This means so many different things — providing all of the information you need to make tough decisions easier; using my knowledge of the market to write contracts designed to get you exactly what you want as quickly as possible; and communicating with you every step of the way so that you and I both have no unnecessary worries, from start to finish.
I consistently pursue education to continually improve my skills and stay on top of the market, top technologies, best practices, and changes in legislation which pertain to the transfer and ownership of property in Texas.
As an active Real Estate Broker, I also am privy to the changing trends of business in general and how it affects the local and national real estate markets. I am an active member of The Houston Association of Realtors and Texas Association of Realtors. I am also fluent in both English and Spanish and hold a certified negotiation designation.

I am a loyal, enthusiastic and highly motivated Broker, who aspires to exceed my clients' expectations. Let me exceed yours.
6000 Reims
Galleria Diplomat T/H Condo

Beds: 2
Baths: 2 & 1 half
Sqft: 1,640
MLS#: 11026692
3506 Windmill Elm
Timbergrove Point

Beds: 4
Baths: 3 & 1 half
Sqft: 4,060
MLS#: 34661971
1211 Clovis
Timbergrove Manor Sec 06

Beds: 3-4
Baths: 2
Sqft: 1,589
MLS#: 44833661
7741 Janak
Melody Oaks

Beds: 3-4
Baths: 3 & 1 half
Sqft: 3,360
MLS#: 32926456
1928 Autumn Ridge
Dominion Ridge 03

Beds: 0
Baths: 0
Sqft: 0
MLS#: 10680954
2110 Shearn
Sawyer Brownstones Condos

Beds: 3
Baths: 2 & 1 half
Sqft: 1,743
MLS#: 39804082
Client Experience Rating
Over all Rating
5.00/5.00
Based on 76 Completed Surveys
Competency
5.00/5.0
Market Knowledge
4.99/5.0
Communication
5.00/5.0
My Experience
5.00/5.0
Buyer's feedback on Clovis Road on 03/07/2018
Buyer's feedback on Windmill Elm Street on 03/05/2018
Buyer's feedback on Greenhill Forest Dr on 11/08/2017
Buyer's feedback on Arboles Dr on 09/17/2017
See More
Designations and Certifications
Accredited Luxury Home Specialist Inclusion into the Luxury Home Council requires all members to meet or exceed minimum standards of achievement demonstrating their expertise in the Luxury Home segment of the real estate industry. To display the ALHS designation each member must: Complete the Accredited Luxury Home Specialist Course. Represent a buyer or seller, in at least two transactions, where the purchase price is at least two times the average sales price in the market. The transactions must take place within 24 months of taking the course or anytime prior to taking the course. Be in good standing with the National Association of REALTORS® and the Luxury Home Council.
(http://www.luxuryhomecouncil.com/)
Certified Negotiation Expert
The Certified Negotiation Expert (CNE) designation was launched in late 2006. In just over the first year of operation, over 1400 agents in 11 different states earned their CNE designation. An aggressive national expansion began in early 2008 via licensing agreements with over 40 real estate schools across the country. Many agents who take the CNE seminar rate it the best training experience of their real estate career (see Testimonials on website). And the negotiation knowledge obtained during the CNE seminar can be used in virtually any negotiation inside or outside of real estate.
(
http://www.negotiationexpertise.com
)