Karishma Asrani
4.98/5.0
Rating Detail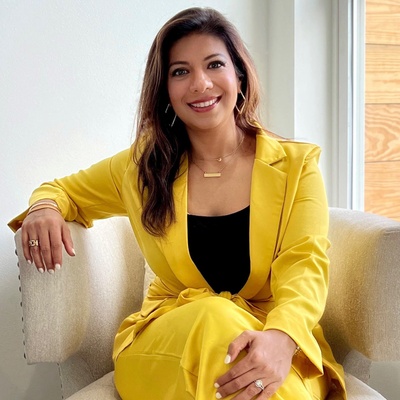 Get In Touch
Karishma Narang Asrani graduated college with a Bachelors in Architecture. She has been licensed with Keller Williams Metropolitan in Houston since 2005. In 2009, she was selected by the National Associations of Realtors (NAR) to be a part of the "30 Under 30 in Real Estate." This group is selected from across the country and the honor is presented to those who show business success and also community and professional leadership. She was a part of the 30 selected from over 400 applicants in the US. In 2012 Karishma won the Houston Association of Realtor's (HAR) NextGen Realtor Group's (NRG) "20 under 40" Rising stars in Real Estate Award. She is also armed with the Accredited Luxury Home Specialist and Certified Negotiations Expert designations. "I have always loved working with people and houses. I studied the real estate market and felt it would be the best way to bring my training in architecture and people skills together. Knowing that my seller's get the best price for their home and my buyer's find their dream home for the right price is a great feeling of accomplishment. This motivates me to hustle for my clients every day. I love real estate", says Karishma. In 2010, Karishma was the Chair for NRG. NRG won NAR's Young Professionals Network Chapter of the year award during her stint. Currently she serves on the Texas Association of Realtor's Board of Directors and the HAR International Committee.
2710 Hullsmith Dr
Contemporary Westheimer Twnh

Beds: 2
Baths: 2
Sqft: 1,501
MLS#: 28584699
4225 Purdue St
Purdue Court T/H Condo

Beds: 2
Baths: 2 & 1 half
Sqft: 1,208
MLS#: 42010582
4137 Ruskin St
West University

Beds: 3
Baths: 2
Sqft: 1,920
MLS#: 27168623
4135 Marlowe Street
West University

Beds: 4
Baths: 2 & 1 half
Sqft: 2,903
MLS#: 91728750
3221 GARROW
EADO

Beds: 3
Baths: 3 & 1 half
Sqft: 2,167
MLS#: 18942951
106 E Crystal Canyon Cir
The Woodlands Creekside Park

Beds: 3
Baths: 3 & 1 half
Sqft: 3,468
MLS#: 89552977
Client Experience Rating
Over all Rating
4.98/5.00
Based on 147 Completed Surveys
Competency
4.99/5.0
Market Knowledge
4.99/5.0
Communication
4.95/5.0
My Experience
4.99/5.0
Buyer's feedback on GARROW on 01/19/2017
Seller's feedback on James Pl on 12/07/2016
Buyer's feedback on Bellefontaine St on 10/27/2016
Buyer's feedback on Cedar Oaks Ln on 09/30/2016
See More
Designations and Certifications
Accredited Luxury Home Specialist Inclusion into the Luxury Home Council requires all members to meet or exceed minimum standards of achievement demonstrating their expertise in the Luxury Home segment of the real estate industry. To display the ALHS designation each member must: Complete the Accredited Luxury Home Specialist Course. Represent a buyer or seller, in at least two transactions, where the purchase price is at least two times the average sales price in the market. The transactions must take place within 24 months of taking the course or anytime prior to taking the course. Be in good standing with the National Association of REALTORS® and the Luxury Home Council.
(http://www.luxuryhomecouncil.com/)
Certified Negotiation Expert
The Certified Negotiation Expert (CNE) designation was launched in late 2006. In just over the first year of operation, over 1400 agents in 11 different states earned their CNE designation. An aggressive national expansion began in early 2008 via licensing agreements with over 40 real estate schools across the country. Many agents who take the CNE seminar rate it the best training experience of their real estate career (see Testimonials on website). And the negotiation knowledge obtained during the CNE seminar can be used in virtually any negotiation inside or outside of real estate.
(
http://www.negotiationexpertise.com
)
ePro Internet Professionals
e-PRO® is a revolutionary training program presented entirely online to certify real estate agents and brokers as Internet Professionals. The NATIONAL ASSOCIATION OF REALTORS® is the first major trade group to offer certification for online professionalism.
e-PRO® is not just about technology - it's about how you can leverage your most powerful asset, your people-skills, into doing more business on the Internet.
e-PRO® gives you:
- Exhaustive Internet Training
- Unique Competitive Advantage
- Professional Distinction
- CE credit is now available in several states
For more information on the e-PRO® certification, visit the
REALTOR e-PRO®
Web site.
Texas Realtors Leadership Program The mission of the Texas REALTORS Leadership Program is to develop community and organizational leaders to become contributors to their community and their businesses and enrich their personal and professional lives.
Participants will learn about their communication skills, how to lead a team and work within a team, understand multi-cultures, and how to grow their real estate business while learning about their community, government, and business partners.
The Leadership Program offers participants the opportunity to meet other motivated leaders and to share intensive learning experience that focuses on community issues and leadership skills. The purpose of the leadership program is to prepare the next generation of Realtors® to meet future challenges. The program provides participants with lectures, seminars, guest speakers, group discussions and leadership exercise that address vital issues affecting Realtors