Kasteena Parikh
4.98/5.0
Rating Detail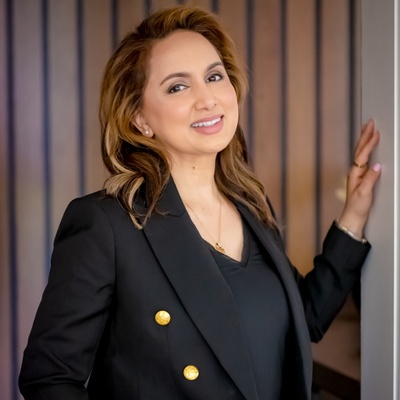 Get In Touch
WEST UNIVERSITY'S AREA PREMIER REAL ESTATE AGENT
Kasteena Parikh has been a top producer every year since 2006 and was named by the Houston Business Journal as one of the Top 25 Residential Real Estate Agents in Luxury.
A longtime resident of West University, Kasteena's acute understanding of the local market, coupled with her unsurpassed knowledge of the West U, Rice University/Southampton, Bellaire, River Oaks, Braeswood, and Southgate areas, has made her the broker of choice for luxury home buyers and sellers in the area.
Kasteena's extensive experience in design and staging makes her uniquely qualified to advise her clients on the smartest investment decisions regarding which home to purchase, when to sell and what improvements to make in anticipation of selling to maximize the property's resale value. She is known for her expansive and detailed pre-listing services that she implements to prepare the homes that she sells and her extraordinary concierge service that is available to all her clients when they list or buy a house.
Raised in Houston, Kasteena graduated from college in 1997 and went on to work in the Financial Services, Sales and Human Resources Managment departments for AIG and Citigroup for nine years. She credits her background in financial services, sales/marketing and human resources as an integral part of her ability to effectively present properties and negotiate transactions.
Kasteena is married and has two children and her active involvement in local communities allows her to provide her clients with invaluable insights into the overall experience of living in the West University area. Kasteena has a longstanding history of giving back to the places where she lives and works, with a focus on local charities that directly benefit area residents.
Kasteena's other affiliations and community activities:
West University Place Parks and Recreation
University of Houston, Greek Housing Board
Board Member, Bellaire Young Mothers
Tel: 713-581-0677 Email: Kparikh@kw.com, Website: HAR.COM/Kasteena
1742 E Bolsover
Tricons Bolsover Court

Beds: 3-4
Baths: 3 & 1 half
Sqft: 3,600
MLS#: 78470078
6723 Westchester
Westchester Court

Beds: 3
Baths: 2 & 1 half
Sqft: 2,858
MLS#: 56074179
2639 Centenary
Belle Court

Beds: 2
Baths: 1 & 1 half
Sqft: 1,634
MLS#: 48125555
6528 Sewanee
West University Place Sec 01

Beds: 4
Baths: 3 & 1 half
Sqft: 4,111
MLS#: 40874212
2535 Shakespeare Street
Wessex

Beds: 2
Baths: 1
Sqft: 1,181
MLS#: 19339048
2535 Shakespeare St
Wessex

Beds: 2
Baths: 1
Sqft: 1,181
MLS#: 9721074
Client Experience Rating
Over all Rating
4.98/5.00
Based on 82 Completed Surveys
Competency
4.98/5.0
Market Knowledge
4.94/5.0
Communication
5.00/5.0
My Experience
4.99/5.0
Seller's feedback on Pittsburgh Street on 11/08/2017
Seller's feedback on Hatton St. on 10/20/2017
Seller's feedback on University Blv on 10/01/2017
Seller's feedback on CAROLINA WAY on 09/25/2017
See More
Designations and Certifications
Accredited Buyer Representative
With over 40,000 members, REBAC is the largest association of real estate professionals focusing on all aspects of buyer representation. Over 30,000 ABR® designees have completed the REBAC course, passed the test and provided documentation of buyer agency experience.
REBAC (Real Estate Buyer's Agent Council )
Contact
REBAC
, 1-800-648-6224 or visit the
REBAC
Web site
Accredited Staging Professional Accredited ASP Stagers and ASP Real Estate Agents are true Professionals trained under strict guidelines using proven Staging techniques developed for over 30 years. When you bring your home on the market and prepare your house for sale always hire an ASP because they are the true leaders in the Home Staging and Real Estate Industries. (http://www.stagedhomes.com)
Certified Luxury Home Marketing Specialist The Institute offers the Certified Luxury Home Marketing Specialist (CLHMS) designation for member agents who complete our specialized CLHMS training and have documented performance in the top 10% of their markets. CLHMS members who demonstrate skill in the million-dollar-plus market can receive added recognition as members of The Million Dollar Guild.(http://www.luxuryhomemarketing.com/real-estate-agents/home.html)
Certified New Home Sales Professional The Certified New Home Sales Professional (CSP) designation is the first designation available through The Institute of Residential Marketing. CSP was designed for specialists in new home sales to enhance their professional image, increase their marketability in the home building industry and sell more homes!
Certified Residential Specialist®
Agents can maximize their potential by earning the CRS® Designation and joining the organization that has served top-producing residential sales agents since 1977. The more than 35,000 CRS® Designees benefit from nationwide referral opportunities, a professional image that attracts customers, and sales and marketing support. The CRS® Designation is awarded to experienced REALTORS® who complete advanced training in listing and selling, and meet rigorous production requirements.
Certified Residential Specialist®
Contact Customer Services at 1-800-462-8841, visit the
CRS
Web site.